Specialty drugs are a complex, high-stakes area of claim processing for health plans. These medications are often injectable drugs administered by a provider and are used to treat chronic, complex diseases. They're also notoriously expensive.
Specialty drugs are managed by two separate member benefits: medical and pharmacy. On the pharmacy side, a 2020 report found that specialty drugs accounted for more than half of total pharmacy spend, despite being used by less than 2% of the population. On the medical claim side, Cotiviti analytics recently uncovered that overall J-code spending among prepay clients increased by 15% in 2020, even while decreased healthcare utilization due to COVID-19 reduced total claim expenditures by 7%. Although the pace of growth slowed in 2021, the increase in spend still grew by 4.5% over 2020, and 75% of the total came from injectables (Figure 1).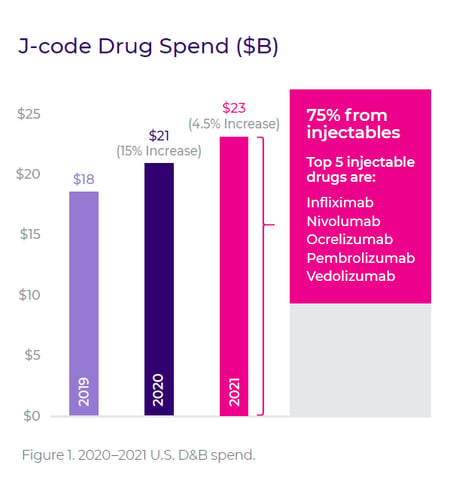 Because of the significant cost and complexity surrounding specialty drugs, it's imperative for providers and plans to pay close attention to details, making sure that the patient receives proper treatment and that the claim is billed correctly.
One process that many plans and pharmacy benefit managers (PBMs) rely on to streamline this process is prior authorization. Prior authorization helps plans and PBMs to proactively limit excessive costs and inefficient utilization for expensive specialty drugs. Medications that pass through the prior authorization process must meet certain pre-determined criteria to be approved for payment. Some plans and PBMs may additionally apply certain approval limitations based on criteria such as dose, diagnosis, and frequency.
However, after a medication is approved, many prior authorization systems do little to monitor these details in an ongoing fashion. Putting too much reliance on prior authorizations for prospective payment integrity can open the door to significant financial losses. And the complicated and costly nature of specialty drugs also makes it an area ripe for fraud, waste, and abuse (FWA). Whether bad actors are providers, pharmacies, or even members, prior authorizations are limited when it comes to identifying or preventing aberrant patterns.
But there are other methods that payers can put into place to increase accuracy for specialty drug claims without relying solely on prior authorization. The right approach creates an added layer of corroboration to make sure that the claim is as accurate as possible, and isn't part of an FWA scheme or pattern.
In our white paper, Specialty Drugs: Ensuring payment accuracy beyond prior authorizations, we walk through:
Frequent challenges to proper billing within specialty drugs
Reasons to go beyond prior authorizations for better claim accuracy
Several payment integrity best practices specific to specialty drugs



When payers apply these best practices to specialty drug claims, they protect themselves, their providers, and their members from inaccuracies.