While the COVID-19 pandemic has challenged providers in significant ways, it unfortunately has also created new opportunities for a small handful of bad actors to take advantage of the outbreak to increase their reimbursement. Here's how Cotiviti recently worked with MetroPlus Health Plan in New York City to identify inappropriate claims.

Achieve up to 15:1 ROI with FWA Management
Get the facts
Analyzing suspect billing patterns
During routine monitoring of the client's professional claims during the pandemic, Cotiviti identified a provider as an excessive and aberrant biller of both telemedicine codes and in-office services. Cotiviti had recently investigated this provider and identified an exceptionally high error rate due to issues including:
Upcoding

Unbundling

Billing for services that were not documented in medical records

Billing claims that were in violation of National Correct Coding Initiative (NCCI) edits

Billing for unapproved in-office lab testing
From March–May 2020, the provider had billed for 953 patients, which accounted for 52 percent of his total panel of patients for MetroPlus. Additionally, 46 percent of the total unique dates of services from this provider were billed with a place of service (POS) 11 – "Office", without any telemedicine modifier, indicating that the provider was treating patients in his office during the state's mandatory lock-down period.
Of the patients billed during this period, 46 percent had multiple dates of service for various diagnoses. The provider continuously billed for patients on a weekly or bi-weekly basis, with the diagnosis often changing from one visit to the next, as identified in the patient example below.
Patient Claims: Example

Dates of Service

Procedure Code

Principal Diagnosis

Paid Amount

4/14/2020

99213

Acute upper respiratory infection, unspecified

$70.00

4/17/2020

99213

Low back pain

$70.00

4/18/2020

99213

Vitamin D deficiency, unspecified

$43.00

4/27/2020

99213

Mixed hyperlipidemia

$70.00

4/30/2020

99213

Gastro-esophageal reflux disease without esophagitis

$70.00
The provider's top-billed codes during the shutdown were Evaluation and Management (E&M) codes 99213 and 99214, most of which were appended with a modifier 95, indicating the services were "synchronous telemedicine rendered via a real-time interactive audio and video telecommunications system." Per the Department of Health and Human Services (HHS), in order to append a claim with modifier 95, providers can use any non-public facing audio/video communication products.
Cotiviti identified aberrant billing patterns between these appended claims and other billed codes associated with telehealth; specifically, CPT 99441, 99442, and 99443: "telephone evaluation services." The provider billed a total of 1,879 standard E&Ms compared to a total of 439 telephone evaluations. Although the provider shifted to telephonic services in March during the mandatory quarantine period, billing quickly shifted back to traditional E&Ms, possibly due to the vast payment variances between the two services as shown below.
Payment by Type of Service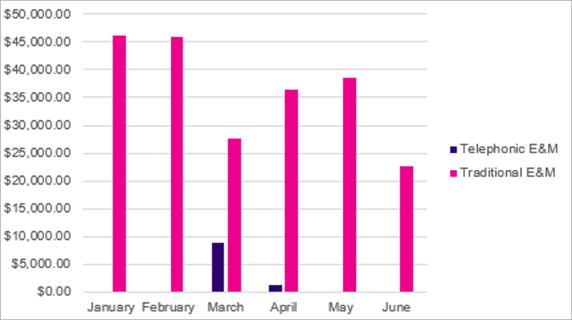 Procedure Counts by Type of Service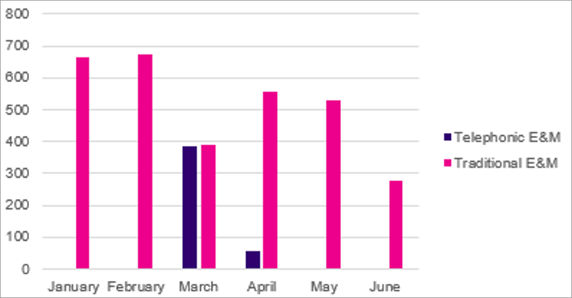 The provider received a higher reimbursement when billing for a standard E&M visit as opposed to telephonic E&M—by almost 65 percent. Although current medical records would need to be reviewed to confirm the appropriateness and necessity of the services billed, data indicated that the provider is likely billing for unnecessary standard E&Ms. These claims were reviewed by a Cotiviti registered nurse, who noted that video conferencing is likely unnecessary outside of the initial patient visit and for certain diagnoses billed by this provider.
Additionally, Cotiviti identified an excessive number of patients billed in a very short timeframe, which may indicate the provider was cold-calling patients to initiate billable visits—a practice that is strictly prohibited by Centers for Medicare & Medicaid Services (CMS) regulations.
Performing a peer comparison
The provider was also identified as an outlier amongst peers for E&M services and several other top-paid codes. Cotiviti performed a peer comparison report in Sentinel, our automated overpayment detection and protection software, and identified that these codes represented a much larger percentage of this provider's total paid amount than that of his peers:
Payment Per Code: Provider/Peer Comparison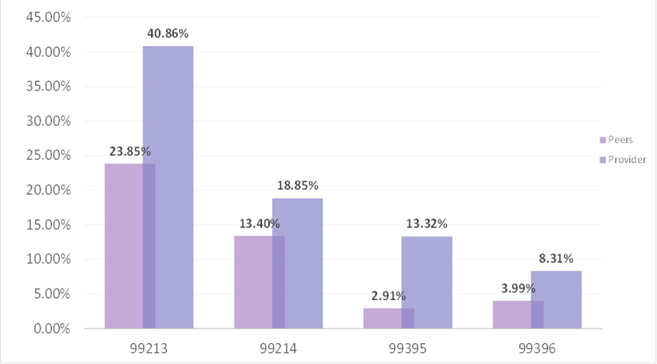 Analyzing "impossible days"
Cotiviti then used Informant, our advanced healthcare data analysis tool, to calculate the hours per day in which this provider performed services during the initial months of the pandemic. On several occasions, the provider submitted multiple claims on the same date of service for multiple patients. On March 9, 2020, the provider billed for approximately 22 hours of services for 48 patients, including 121 unique procedure codes. During the initial audit of this provider, our team noted that only one other healthcare professional was billing under this provider's National Provider Identifier (NPI) number.
The table below illustrates the top impossible days by hours.
| Dates of Service | Total Time (hours) | Total Units Billed |
| --- | --- | --- |
| 03/09/2020 | 21.92 | 121 |
| 03/03/2020 | 21.80 | 122 |
| 03/02/2020 | 18.43 | 108 |
| 03/07/2020 | 16.37 | 93 |
| 03/12/2020 | 15.43 | 90 |
The billing behavior identified above is associated with claims from only one health plan; it is likely that the provider was billing other plans on the same dates of service. When a provider is billing for an impossibly high number of procedures per day for a single health plan, this may be an indication of billing for services not rendered.
Additionally, of the top-paid providers and laboratories to which the provider referred patients, 11 are currently under investigation by Cotiviti for exceptionally high error rates associated with medical reviews. Our team also identified that 17 percent of the patients referred by this provider were to out-of-network providers or labs, many of which have been referred to the Office of the Medicaid Inspector General.
What comes next
While this investigation is still underway, a health plan would typically then meet with the provider to reach a settlement regarding such claims. In these situations, Cotiviti supports our clients by providing a detailed report documenting the provider's aberrant billing patterns and cataloging our approach to identifying these patterns. This provides our health plan partners an additional avenue for negotiation with their providers. In this case, because the health plan remained diligent and monitored this provider's billing during the pandemic, it now has the opportunity to present new information and negotiate a settlement for the identified FWA.
Sadly, the health plan's experience with this provider is just one example of a bad actor exploiting the COVID-19 pandemic, targeting health plans or consumers directly. Other recent examples of allegedly inappropriate activity include:
---
Designed by credentialed investigators in collaboration with clinical, claims, and regulatory specialists, Cotiviti's end-to-end FWA Management solutions adapt to emerging fraud schemes and compliance requirements. Learn how we enable health plans to improve case management efficiency while delivering ROI of up to 15:1.