To care for their members and patients, payers and providers must often share significant amounts of healthcare data across organizations—and ensure that data is protected and only shared appropriately. In an interview with HIMSS TV, Nicole Neumarker, executive vice president, development and innovation of Cotiviti, explains how organizations can help ensure they are being ethical stewards of clinical data. Watch the interview right here on the Cotiviti blog.
Hear more from Nicole as she discusses the role of artificial intelligence during the COVID-19 pandemic with AJMC's Managed Care Cast.
About Nicole Neumarker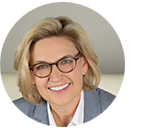 Nicole is responsible for delivering value through Cotiviti's software engineering and innovation teams globally. As a member of the executive leadership team, she drives development for new product introduction as well as innovation across existing solutions. She accomplishes this by driving lean portfolio and agile practices for scale and entrepreneurial teams for research and innovation. Nicole joined Cotiviti in 2014 and brings more than two decades of experience in information technology to her role.