Wednesday, Becker's Hospital Review recognized Cotiviti's Jordan Bazinsky, Executive Vice President, Administrative Officer, as one of 36 healthcare information technology and revenue cycle "up-and-comers." Joining Cotiviti in 2009, Bazinsky has since held multiple senior roles in the organization. We sat down with him as he reflected on his time with the organization and in the healthcare industry.
What accomplishments are you most proud of in your work at Cotiviti?
First, I'm proud of the way that we have been able to expand as an organization, from our roots in predictive analytics and predictive modeling to now serving all critical health plan needs related to revenue and cost optimization. Our ability to deliver so much return on investment for health plans has been a huge accomplishment for the business, and I've been happy to contribute to that growth in a variety of organizational roles. This has given me a really nice perspective into all the pieces of a company that need to act in concert to adopt best practices, manage change, and move quickly to capitalize on opportunity.
Second, when there was a terrible earthquake in Nepal in April 2015, our company rallied to support our colleagues in a way that was truly phenomenal. The selflessness of so many of our colleagues was inspiring to see as they worked together to make sure our colleagues and their families taken care of.
Finally, positioning ourselves for the successful sale of our company to Veritas Capital in 2016 required a massive amount of tightly choreographed work. We tightened up our operations, improved our delivery model, and effectively communicated the value of what we do to the market. Veritas's ongoing confidence and investment in our rapid growth are a testament to our advancement as a team and our value to our clients.
Why did you decide to dedicate your career to healthcare?
There are few things that are more personal than health and healthcare. It's something I care a lot about because it touches so many people, and I'm fortunate to have had the opportunity to fulfill my passions and apply my skills to such an area where even small changes can have a huge impact. I've always thought that healthcare is an industry in desperate need of innovation, and one of the highlights of my job is that I get to work with my teams and with our clients to develop and introduce new products to the market – products that improve both clinical and financial outcomes for our clients. It's hard not to get excited about that when you get out of bed in the morning.
What excites you the most about the future of healthcare analytics?
In a world where you have very little data and you don't understand the data well, you have very little ability to impact positive change. I think we're getting to a place where the technology and the data are getting so refined that you can begin to ascribe causality at a far more granular level of detail than ever before. In other words, we've gotten fairly good at looking at populations and assessing needs in aggregate, but it's very difficult to apply that same analytical approach at the individual level, for example, or parse out from the data not just what's happening but why it's happening. When we can better pinpoint the myriad drivers of risk, we can then assign accountability for resolving the issues.
You see that today as we're better able to decode the human genome, which in turn allows us to develop targeted therapies that address very specific molecular problems. I think of addressing what ails the healthcare system in a similar vein. Consider the healthcare system as an organism, and you are trying to root out what is causing it to be sick. New technologies and new approaches to understanding disparate data types and predicting the future are allowing us to get much more fine-tuned in how we problem solve.
Solutions, then, take a lot of forms: value-based contracting, new and innovative partnerships in the healthcare system, and empowering patients with more information about their health so that they can make better decisions, to name just a few. This fine-tuning of our knowledge will only grow more precise over time, enabling us to "treat" the healthcare system and make meaningful progress forward.
About Jordan Bazinsky: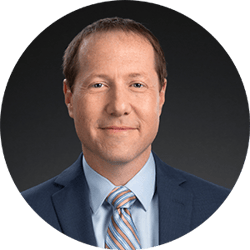 As executive Executive Vice President, Administrative Officer, Jordan oversees Cotiviti's product portfolio, analytics, and marketing with a focus on innovation. He is committed to advancing our clients' goals through solutions that empower their success amid an evolving landscape. Jordan joined Cotiviti in 2009 and has held various senior leadership roles during his tenure across operations, data science, finance, human resources, and risk management. Prior to joining Cotiviti, Jordan held positions in strategy and new product development at The Advisory Board Company. Jordan earned an MBA from Harvard University and an undergraduate degree from Duke University, where he previously served as a trustee.